PR Nordic is a Public Relation agency dedicated to digital entertainment. We perform and deliver with excellence.
Welcome
We are PR Nordic – a PR/Communications agency dedicated to digital entertainment. We have worked with robots, games, film, TV-series, gadgets and (e)sports teams. Everything that we care about and find fun to play with. Our key focus is to deliver great results that ensures developers, publishers and studios reach their target group. We are represented in all of the Nordic countries -Denmark, Finland, Norway, Sweden – and pride ourselves with a great relationship to editors, journalists, influencers and bloggers. Let's get in touch, we are looking forward to hear from you!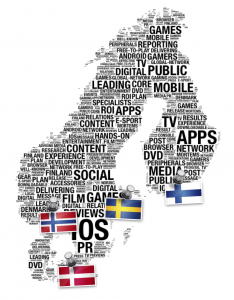 Ten reasons

1. PR Nordic provides public relations consultancy dedicated to digital entertainment, specialised within tech, smartphone, film and game industry.
2. A team with more than 50 years of combined experience doing PR and marketing.
3. The first PR agency in the Nordic to place focus on gaming and execute free-to-play, indie game and mobile campaigns..
4. We have handled more than 2,000 film releases and more than 1,000 game releases, from AAA boxed games to DLC, browser and mobile games.
5. Strong and close relationship to a wide range of Nordic journalists and media representing lifestyle and daily press.
6. We have worked with more than 100 influencers across the region doing unboxing, live streams, let's plays, vlogs and social media marketing.
7. All our campaigns are supported by social media presence across all leading platforms.
8. We have executed more than 300 successful press trips and events including expos, developer interviews, game demos and presentations.
9. A team of professionals and one contact person for your Nordic campaign.
10. A significant focus on reporting and documentation. All of our campaigns are well-documented in a report so you are always updated.
Network
PR Nordic is part of a global PR network that ensures your campaign is handled by the most experienced and specialized PR teams worldwide. We select our local PR partners based on their experience within handling everything from indie projects to AAA campaigns.
Our PR network covers entire Europe, Russia, Asia, South, Mid and North America.
.