SDS Fenrir Announced as Fan Festival Mount
LONDON (3rd July, 2018) – FINAL FANTASY® XIV: Stormblood™ continues to provide unique and exciting content to players with today's launch of Patch 4.35. This update debuts the latest Deep Dungeon, Heaven-on-High, the next chapter in the Hildibrand quest series, as well as new items and system updates.
Heaven-on-High challenges players to join fellow adventurers and traverse through a 100-floor dungeon that grows in difficulty with each level. The content also features a reworked leveling system specific to the Deep Dungeon in addition to special rewards for those who can reach the highest floor.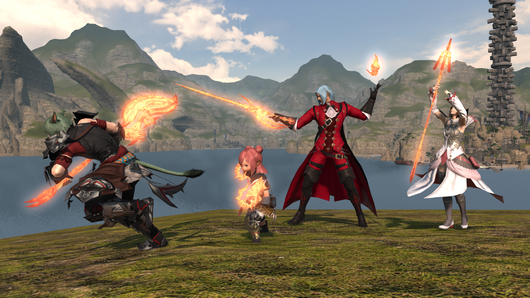 Weapon Rewards from Heaven-on-High
Today's patch also features the latest questline in the adventures of Hildibrand, in which the inspector extraordinaire investigates crimes perpetrated by the Wolf Burglar in the Far East. Additionally, new emotes, minions, along with a new hairstyle and mount have been added, including one runner-up design from the Hairstyle Design Contest.
New Hairstyles and Mount
Further details on Patch 4.35 are available at: https://sqex.to/AVq
Coinciding with the release of Patch 4.35 is the start of The Feast Regional Championship 2018, a series of official player versus player tournaments being held in North America, Europe, and Japan (to determine the champions within each region). The preliminaries period will begin on Tuesday, July 3rd and continue until Monday, August 13th.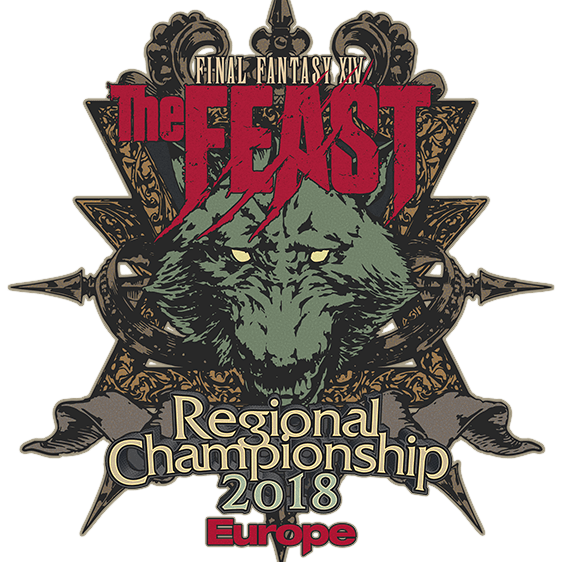 The Feast Logo
Winners of the preliminaries will advance to the online semifinals—streamed and hosted by Square Enix—to determine the final teams to participate in the European finals held at the Fan Festival 2019 in Paris.
Additional information, including rules and schedules, can be found at The Feast Regional Championships 2019 dedicated website:
https://eu.finalfantasyxiv.com/lodestone/ranking/thefeast/championship/
Fans can also look forward to an exciting season of FINAL FANTASY XIV Online Fan Festivals all over the world. New information was recently announced for the upcoming FINAL FANTASY XIV Fan Festival tour, which comes to Paris' "La Grande Halle de La Villette" on 2nd – 3rd February, 2019:
The event will be live streamed free of charge in all regions, and will include all stage content except for the concerts.

Attendees of Fan Festivals 2018 – 2019 will receive a special Fan Festival mount: the SDS Fenrir designed by Takayuki Takeya. Additionally, attendees of each Fan Festival event will receive an in-game minion specific to that event—minion details are to be provided at a later date. Those unable to attend the events may purchase the bonus items on the Mog Station at a later date.
More details about the event are available at the official Fan Festival website: https://fanfest.finalfantasyxiv.com
All editions of FINAL FANTASY XIV Online, including the FINAL FANTASY XIV: Stormblood expansion, can be purchased through the Square Enix Online Store here: http://sqex.to/FFXIVStore
About Square Enix Ltd.
Square Enix Ltd. develops, publishes, distributes and licenses SQUARE ENIX®, EIDOS® and TAITO® branded entertainment content in Europe and other PAL territories as part of the Square Enix group of companies. Square Enix Ltd. also has a global network of leading development studios such as Crystal Dynamics® and Eidos Montréal. The Square Enix group of companies boasts a valuable portfolio of intellectual property including: FINAL FANTASY®, which has sold over 135 million units worldwide; DRAGON QUEST®, which has sold over 75 million units worldwide; TOMB RAIDER®, which has sold over 63 million units worldwide; and the legendary SPACE INVADERS®. Square Enix Ltd. is a London-based, wholly-owned subsidiary of Square Enix Holdings Co., Ltd.
More information on Square Enix Ltd. can be found at http://eu.square-enix.com/en
FINAL FANTASY XIV © 2010 – 2018 SQUARE ENIX CO., LTD. All Rights Reserved.
STORMBLOOD, the FINAL FANTASY XIV STORMBLOOD logo, CRYSTAL DYNAMICS, EIDOS, EORZEA, FINAL FANTASY, the FINAL FANTASY logo, THE LODESTONE, SPACE INVADERS, SQUARE ENIX, the SQUARE ENIX logo, TAITO and TOMB RAIDER are registered trademarks or trademarks of the Square Enix group of companies. All other trademarks are properties of their respective owners.
Deep Dungeon, Final Fantasy XIV, game, gaming, Heaven-on-High, Hildibrand, Patch 4.35, Regional Championship, Stormblood, update