Designed in Collaboration with the World's Leading Esports Teams, Turtle Beach's New Atlas Line Features Three New Models Built for PC Gamers, including the Pro-Level Elite Atlas, Amplified Atlas Three and Atlas One
The Nordics – August, 2018 – Turtle Beach (NASDAQ: HEAR), a global leader in gaming audio, revealed plans for expanding the company's portfolio of high-quality, award-winning gaming headsets with a focus on the PC market. Designed in collaboration with leading esports teams, including Astralis, OpTic Gaming, and the Houston Outlaws, Turtle Beach's Atlas line is built for PC gamers and features three different models – the Elite Atlas Pro Performance Gaming Headset, the powerful Atlas Three Amplified PC Gaming Headset, and the Atlas One PC Gaming Headset. Furthering Turtle Beach's commitment to designing headsets for all gamers, each Atlas product offers PC players an innovative set of features, functionality and pricing, starting with the Elite Atlas with a MSRP of €99.99, and the Atlas Three and Atlas One with MSRPs of €79.99 and €49.99, respectively. All three Atlas gaming headsets are available for pre-order at participating retailers starting today and are planned to launch at the end of September 2018. Read below for full details of each Atlas PC gaming headset. 
"Turtle Beach is a leading gaming audio brand because we constantly innovate to design high-quality headsets with features that gamers want, so we're clearly excited to extend our portfolio with the Atlas products for PC gamers," said Juergen Stark, CEO, Turtle Beach Corporation. "This expansion is a great move for us because in addition to our already strong performance in console gaming headsets, we'll now have the ability to attract both dedicated and cross-platform PC gamers through our new Atlas lineup."
Turtle Beach has been a consistent market leader in console gaming headsets, currently with 45.5% revenue share year-to-date through June 2018 (per NPD's latest U.S. and Canada console gaming headset update) and has held over 40% market share for the past nine consecutive years, current year-to-date included. However, Turtle Beach is no stranger to the PC market, as the company was a pioneering force through the early days of PC audio, with products including the first midi synthesizers and a variety of PC sound cards in the 1980s and 90s. Since then, the company has evolved with the times, and in 2005 Turtle Beach launched the first ever console gaming headset, setting out to become the leading gaming audio brand it is today, thanks to its continued efforts in innovation, broad product catalog, and strong retail partnerships and distribution channels. During that time, Turtle Beach has created a handful of well-received PC gaming headsets, but the company's core focus has primarily been on the console business, until now.
Stark continued, "When we set out on the path to grow our presence in PC, it included conducting consumer research and working with our partners on key design elements, resulting in what we believe is a great first assortment of PC headsets. Each Atlas headset – whether at the €50, €80, or €100 price point – offers PC gamers the audio performance and comfort Turtle Beach is known for. Moving forward we intend to leverage our technology, innovation, and best practices, to continue leading the console gaming headset business through our Recon, Stealth and Elite products, with equal focus and energy behind our new Atlas line that's built for PC gamers."
"As a player and as a team, it's a privilege to have worked with Turtle Beach in the making of the Elite Atlas and the rest of their new Atlas line," said Nicolai "dev1ce" Reedtz of Astralis. "We tested and provided a lot of feedback and suggestions during the development process in an effort to ensure the Elite Atlas is the best possible headset for PC esports pros, but also for any PC gamers. We're excited to be a part of the whole process and can't wait until gamers can get Turtle Beach's Atlas headsets."
 "The continued rise of esports has put tremendous pressure on organizations to deliver exceptionally high audio quality," said Ryan Musselman, SVP of Global Partnerships, Infinite Esports & Entertainment. "Turtle Beach continues to deliver pro-level audio for the competitive gamer, and the Atlas PC headsets provide a reliable lineup of top-tier audio performance for the aspiring, established, and experienced esports athlete."
Additionally, fans attending gamescom, PAX West and Dreamhack Montreal will have the opportunity to be some of the first gamers in the world to try out the Elite Atlas before it hits retail shelves. Gamescom opens its doors August 21-25, 2018 in Cologne, Germany and PAX West takes place August 31 – September 3, 2018 in Seattle, Washington where Turtle Beach will have a booth where players can go head-to-head playing the latest games using Turtle Beach's latest gear. Dreamhack takes place in Montreal, Canada September 7-9, 2018, and Turtle Beach will be outfitting the show's entire PC Freeplay area with the Elite Atlas where attendees will be able to experience the headset's professional-quality game audio, crystal clear chat, and unmatched comfort.
Full Elite Atlas Pro Performance Gaming Headset Details:
The Turtle Beach® Elite Atlas sets a new benchmark for esports audio on PC. For pro-players and hardcore PC gamers alike, the Elite Atlas is built to win with a durable yet sleek metal headband with a suspended pad, ProSpecs™ glasses friendly design, and upgraded magnetic memory foam ear cushions featuring athletic fabric and synthetic leather working together to block out external noise. Audio performance centers around the Elite Atlas' pro-tuned 50mm Nanoclear™ speakers that deliver immersive Windows Sonic for Headphones2 surround sound, and the removable high-sensitivity mic with TruSpeak™ technology for flawless communication with teammates. Finally, the Elite Atlas goes wherever gaming takes you with included 3.5mm and PC-splitter cables that connect to any PC setup.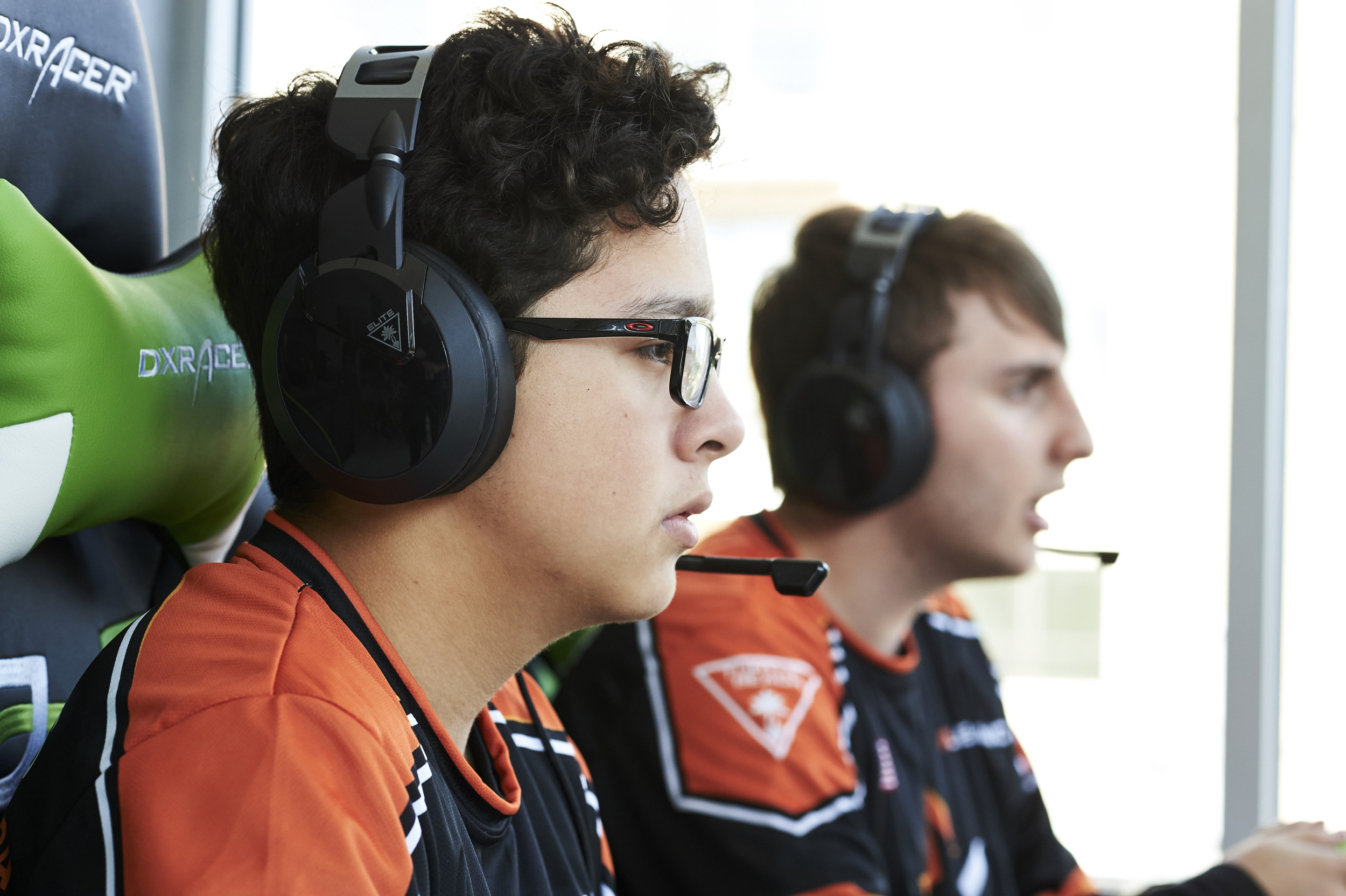 Full Atlas Three Amplified Gaming Headset Details:
The Turtle Beach® Atlas Three PC gaming headset delivers powerful amplified Windows Sonic for Headphones2 surround sound to immerse you in your games, movies, and music. The Atlas Three features large 50mm speakers for game audio and Turtle Beach's high-sensitivity flip-to-mute mic for crystal-clear chat. For added durability and comfort, the Atlas Three dawns a metal-reinforced frame with Turtle Beach's unique ProSpecs™ glasses friendly design, along with a breathable fabric-wrapped headband and memory foam ear cushions. Additionally, the Atlas Three offers Variable Mic Monitoring so you can hear and adjust the volume of your voice inside the headset to avoid shouting at other players, plus audio presets including Vocal Boost, and a rechargeable battery that delivers over 40-hours of gaming per use.
Full Atlas One Gaming Headset Details:
The Turtle Beach® Atlas One gaming headset is built for battle, delivering immersive Windows Sonic for Headphones2 surround sound and crystal-clear chat through its high-quality 40mm speakers and high-sensitivity flip-to-mute mic. The Atlas One also features a lightweight design with a metal-reinforced headband and ProSpecs™ glasses friendly synthetic leather-wrapped memory foam ear cushions to provide added durability and unmatched comfort for those all-nighters.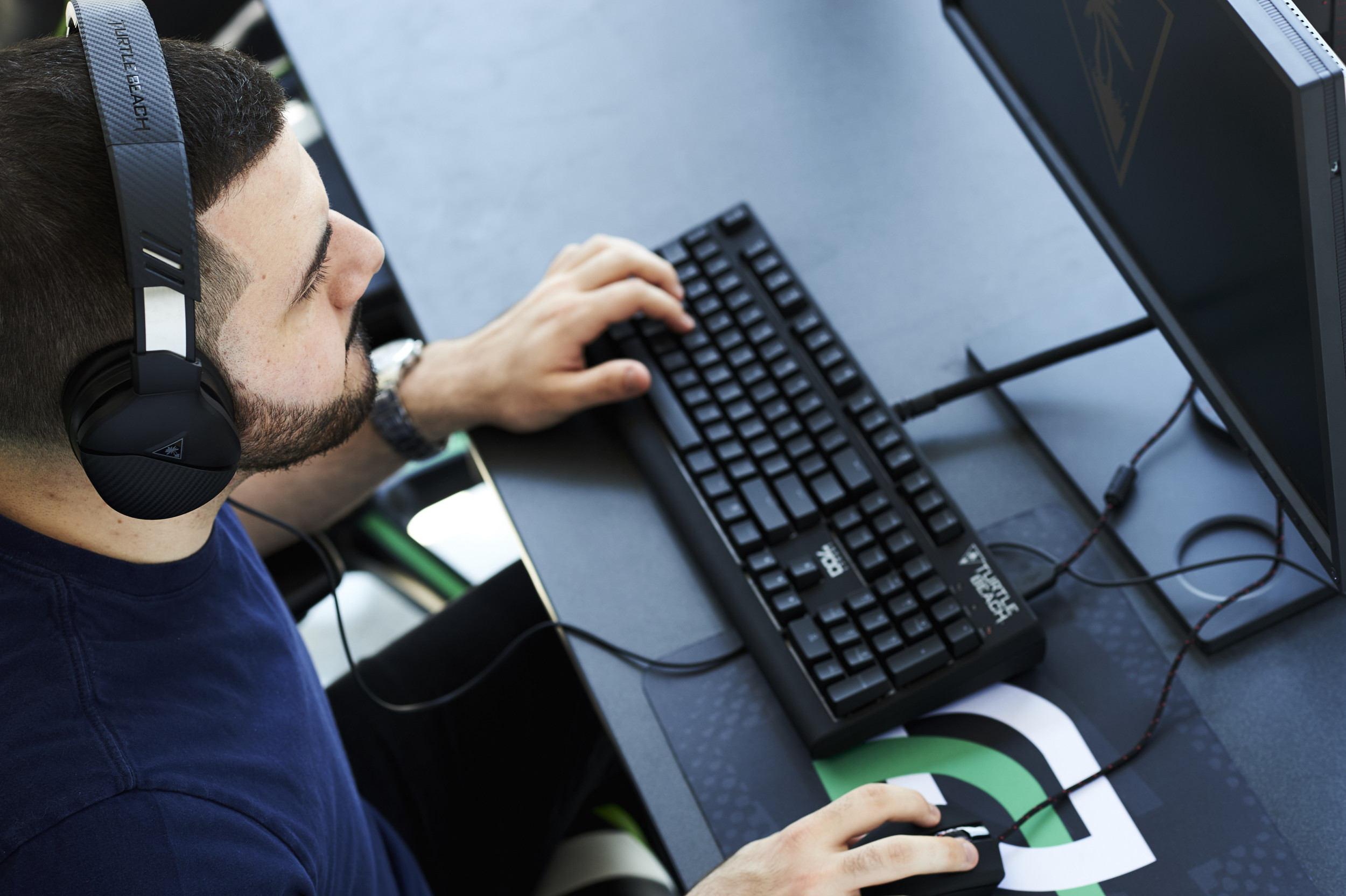 For more information on the latest Turtle Beach products and accessories, visit www.turtlebeach.com and be sure to follow Turtle Beach on Facebook, Twitter and Instagram.
About Turtle Beach Corporation
Turtle Beach (www.turtlebeach.com) has been transforming console multiplayer gaming since the very beginning with its wide selection of industry-leading, award-winning gaming headsets. Whether you're a professional esports athlete, hardcore gamer, casual player, or just starting out, Turtle Beach has the gaming headset to help you truly master your skills. Innovative and advanced technology, amazing high-quality gaming audio, clear communication, lightweight and comfortable designs, and ease-of-use are just a few features that have made Turtle Beach a fan-favorite brand for gamers the world over. Made for Xbox, PlayStation®, and Nintendo consoles as well as for PC, Mac®, and mobile/tablet devices, having a Turtle Beach gaming headset in your arsenal gives you the competitive advantage. The Company's shares are traded on the NASDAQ Exchange under the symbol: HEAR.
Cautionary Note on Forward-Looking Statements
This press release includes forward-looking information and statements within the meaning of the federal securities laws. Except for historical information contained in this release, statements in this release may constitute forward-looking statements regarding assumptions, projections, expectations, targets, intentions or beliefs about future events. Statements containing the words "may", "could", "would", "should", "believe", "expect", "anticipate", "plan", "estimate", "target", "project", "intend" and similar expressions constitute forward-looking statements. Forward-looking statements involve known and unknown risks and uncertainties, which could cause actual results to differ materially from those contained in any forward-looking statement. Forward-looking statements are based on management's current belief, as well as assumptions made by, and information currently available to, management.
While the Company believes that its expectations are based upon reasonable assumptions, there can be no assurances that its goals and strategy will be realized. Numerous factors, including risks and uncertainties, may affect actual results and may cause results to differ materially from those expressed in forward-looking statements made by the Company or on its behalf. Some of these factors include, but are not limited to, risks related to the Company's liquidity, the substantial uncertainties inherent in the acceptance of existing and future products, the difficulty of commercializing and protecting new technology, the impact of competitive products and pricing, general business and economic conditions, risks associated with the expansion of our business including the implementation of any businesses we acquire, our indebtedness, and other factors discussed in our public filings, including the risk factors included in  the Company's most recent Quarterly Report on Form 10-Q and the Company's other periodic reports. Except as required by applicable law, including the securities laws of the United States and the rules and regulations of the Securities and Exchange Commission, the Company is under no obligation to publicly update or revise any forward-looking statement after the date of this release whether as a result of new information, future developments or otherwise.
All trademarks are the property of their respective owners.
 1Source: The NPD Group/Retail Tracking Service/Video Games/Dollars/U.S. & Canada/CY 2010-CY 2018, and January-June 2018.
 2Windows Sonic for Headphones provided by Microsoft for compatible Windows 10 PCs (and Xbox One). Also compatible with Dolby Atmos® for Headphones (additional purchase may be required.)
ATLAS, Atlas Elite, Atlas One, Atlas Three, E-sport, eSport, gaming, headphones, headset, pc, Turtle Beach