LONDON (16th July, 2018) – SQUARE ENIX® today announces all the information of what players can expect when its highly-anticipated collaboration with Capcom's Monster Hunter: World™ arrives in FINAL FANTASY® XIV: Stormblood™ on 7th August. The upcoming crossover, first revealed during this year's ElectronicEntertainment Expo (E3), will test the mettle of players as they face off against the "King of the Skies," Rathalos.
Hunt the "King of the Skies"!
Arriving as part of the Patch 4.36 update alongside the next installment of The Forbidden Land Eureka titled "The Pagos Expedition", Level 70 players who have completed the "Stormblood" main scenario quest will be able to take on the mighty beast in both Normal and Extreme versions of "The Great Hunt" Trial. While the Normal version will see eight Warriors of Light team up to try and emerge victorious, the Extreme version will challenge four players to defeat the monster, while featuring certain additional mechanics in homage to Monster Hunter: World.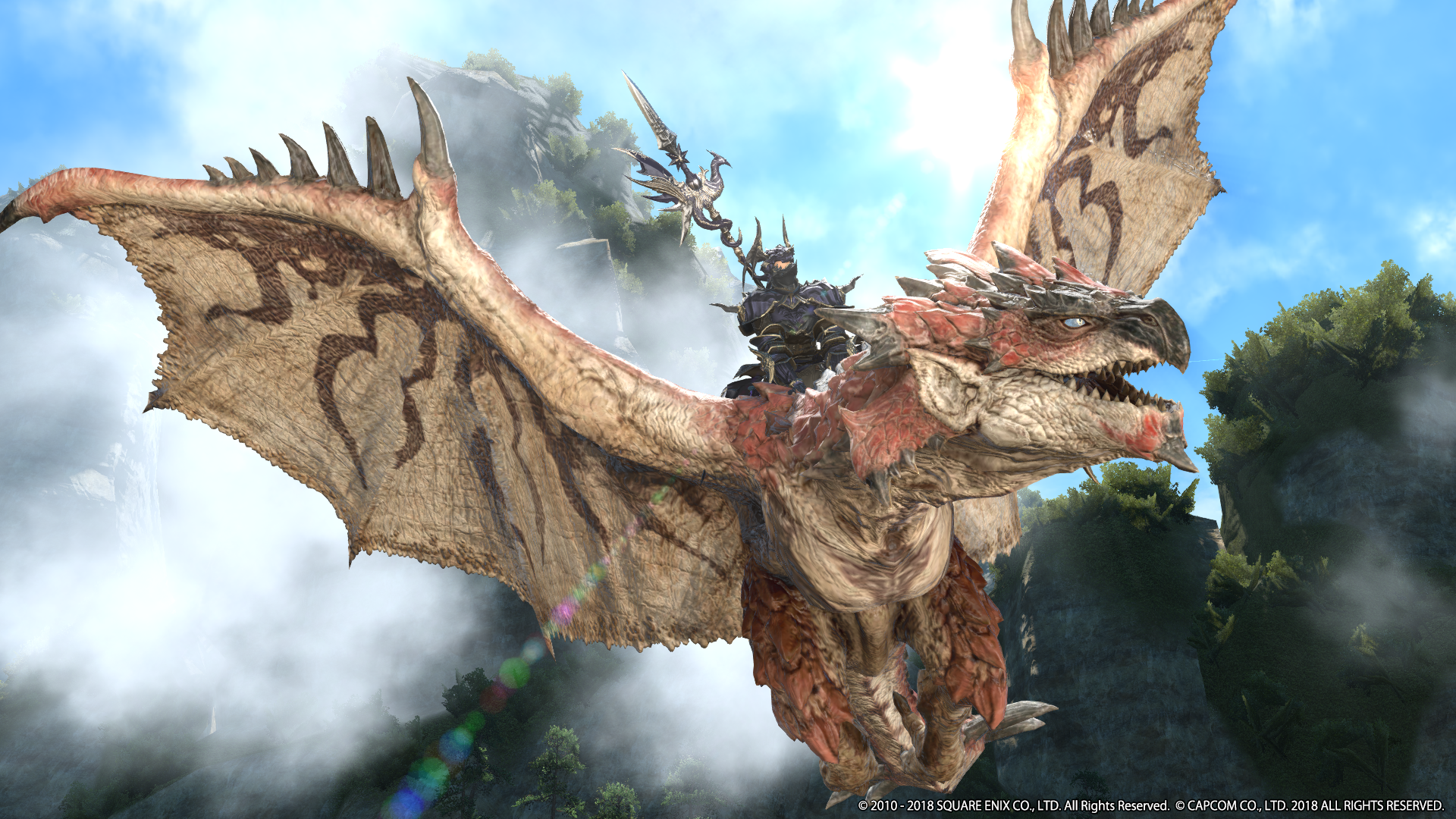 A Dragoon rides the Rathalos Mount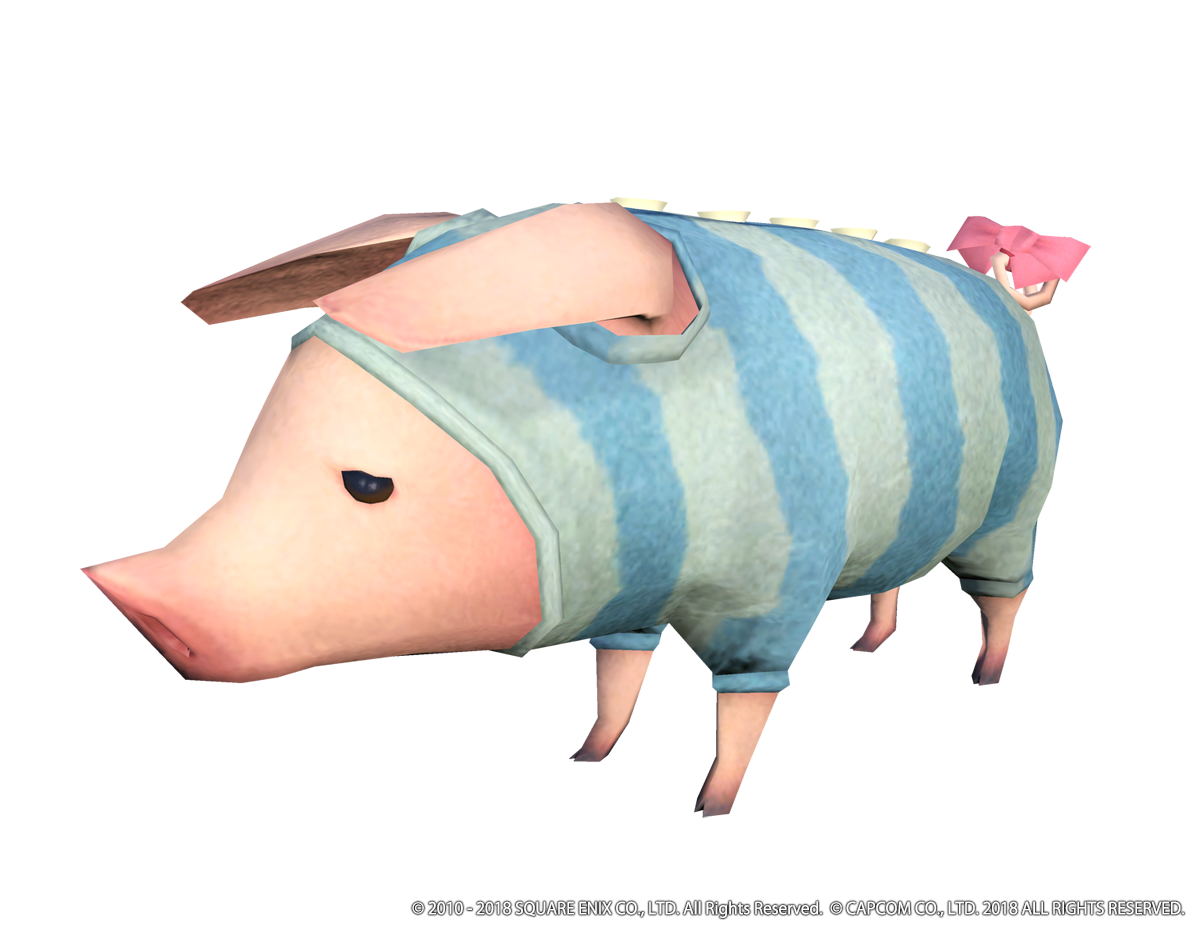 New Minions Poogie and Palico
A range of rewards will be available as part of the collaboration:
New Armor Set – design inspired by Rathalos
New Minions – Poogie and Palico
New Mount – Rathalos
New Furnishing – BBQ Spit
Check out the brand new trailer for the collaboration here: https://youtu.be/rJuaLF131Qw
Additional details and full conditions of participation for the crossover event are available on a special collaboration website: http://sqex.to/3sI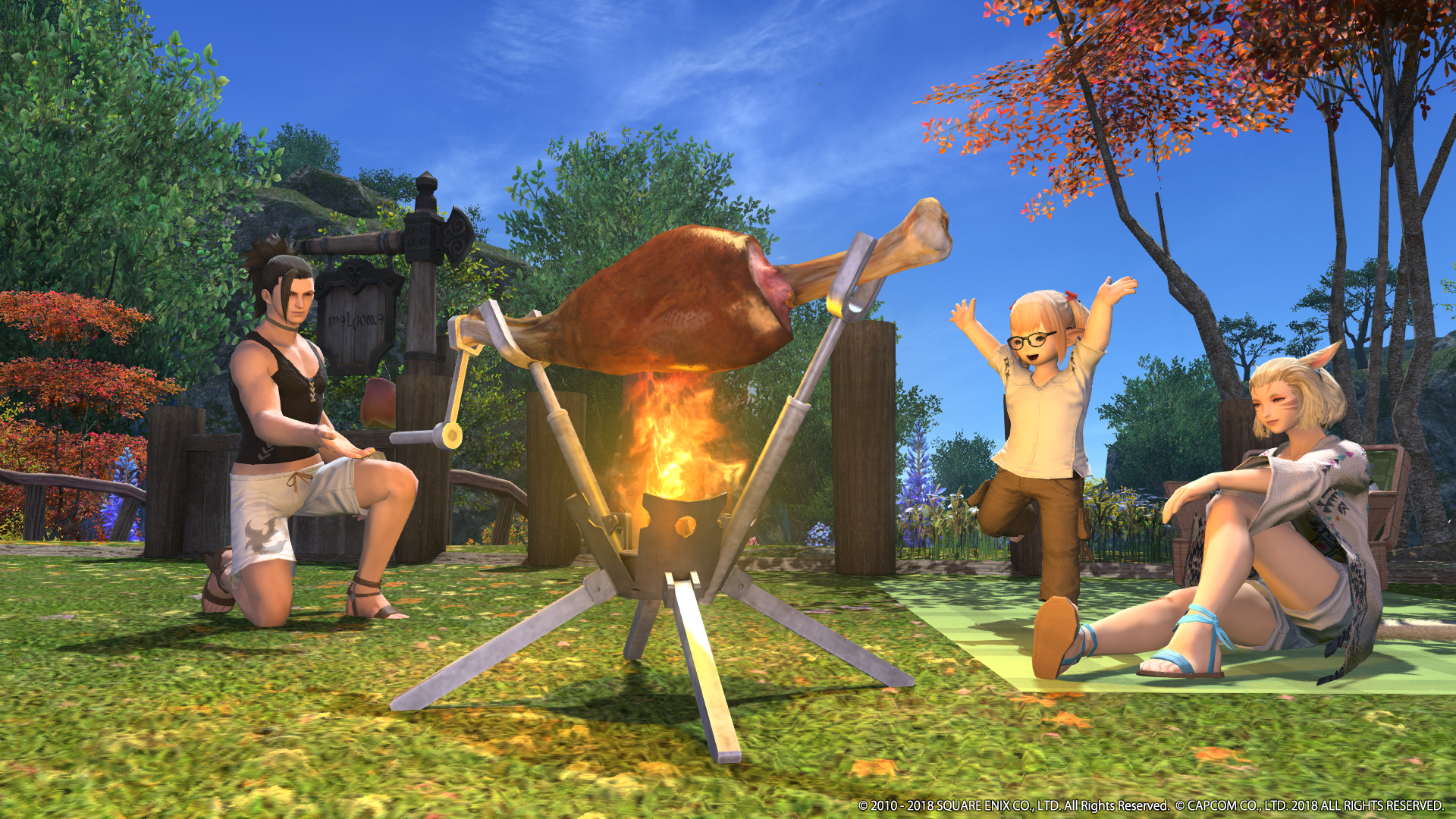 The Rathalos Armor Set and BBQ Spit Furnishing
Also during today's Letter from the Producer LIVE, Producer and Director Naoki Yoshida gave a first tease of what's to come after the collaboration, in the upcoming Patch 4.4: Prelude in Violet:
New Main Scenario Quests
New Sidequests – The Four Lords and Even Further Hildibrand Adventures
New Dungeons – The Burn and Saint Mocianne's Arboretum (Hard)
New Trial – Suzaku
New Raid – Omega: Alphascape
Updates to jobs, PvP, Battle System, Eureka, Gathering and Crafting, Grand Companies, Housing, The Gold Saucer and more.
Fans can also look forward to an exciting season of FINAL FANTASY XIV Online Fan Festivals all over the world. North America will kick off the tour on November 16-17, 2018 in Las Vegas, followed by the European Fan Festival on February 2-3, 2019 at the La Grande Halle de La Villette in Paris, and ending with the Tokyo Fan Festival in March 2019. Additional details may be found here: https://fanfest.finalfantasyxiv.com/
About Square Enix Ltd.
Square Enix Ltd. develops, publishes, distributes and licenses SQUARE ENIX®, EIDOS® and TAITO® branded entertainment content in Europe and other PAL territories as part of the Square Enix group of companies. Square Enix Ltd. also has a global network of leading development studios such as Crystal Dynamics® and Eidos Montréal. The Square Enix group of companies boasts a valuable portfolio of intellectual property including: FINAL FANTASY®, which has sold over 135 million units worldwide; DRAGON QUEST®, which has sold over 75 million units worldwide; TOMB RAIDER®, which has sold over 63 million units worldwide; and the legendary SPACE INVADERS®. Square Enix Ltd. is a London-based, wholly-owned subsidiary of Square Enix Holdings Co., Ltd.
More information on Square Enix Ltd. can be found at http://eu.square-enix.com/en
FINAL FANTASY XIV © 2010 – 2018 SQUARE ENIX CO., LTD. All Rights Reserved.
STORMBLOOD, the FINAL FANTASY XIV STORMBLOOD logo, CRYSTAL DYNAMICS, EIDOS, EORZEA, FINAL FANTASY, the FINAL FANTASY logo, THE LODESTONE, SPACE INVADERS, SQUARE ENIX, the SQUARE ENIX logo, TAITO and TOMB RAIDER are registered trademarks or trademarks of the Square Enix group of companies. All other trademarks are properties of their respective owners.
 About Capcom
Capcom is a leading worldwide developer, publisher and distributor of interactive entertainment for game consoles, PCs, handheld and wireless devices.  Founded in 1983, the company has created hundreds of games including ground-breaking franchises Resident Evil®, Street Fighter®, Monster Hunter™, Ace Attorney®, Mega Man® and Devil May Cry®. Capcom maintains operations in the U.S., Canada, U.K., France, Germany, Tokyo, Taiwan, Hong Kong and Korea, with corporate headquarters located in Osaka, Japan.  More information about Capcom and its products can be found at www.capcom.com or www.capcom-unity.com.
Capcom, the Capcom logo, Ace Attorney, Devil May Cry, Mega Man, Monster Hunter and Resident Evil are either registered trademarks or trademarks of Capcom Co., Ltd., in the U.S. or other countries. Street Fighter is a registered trademark of Capcom U.S.A., Inc. All other marks are the property of their respective owners.