Built to Win for Games like Fortnite and PUBG, the Turtle Beach Stealth 300 Delivers Powerful Amplified Game Audio with Large 50mm Speakers and Crystal-Clear Chat, Plus Unmatched Comfort and Durability with a Metal-Reinforced Headband
San Diego, CA – July 27, 2018 – Leading gaming headset and audio accessory brand Turtle Beach (NASDAQ: HEAR), announced the latest product in its award-winning lineup of gaming headsets, the Stealth 300, is now available at participating retailers in the Nordic countries. Well-suited for the explosive growth of the Battle Royale genre, where a gaming headset is a must-have accessory – the Stealth 300 delivers the high-quality game audio, crystal-clear chat, and comfort and durability gamers demand on their path to a Victory Royale or Chicken Dinner, as they ascend the leaderboards. The Stealth 300 features powerful amplified audio to completely immerse players in their game, glasses friendly memory foam ear cushion, 40 hour battery, a metal-reinforced headband for added comfort and durability, and a suite of additional features that combine to deliver a true competitive advantage. The Stealth 300 is available for Xbox One and PlayStation®4 for a MSRP of $79.95, and also works with Nintendo Switch™ and mobile devices with a standard 3.5mm headset jack.
"The Battle Royale phenomenon continues to emerge and fuel the gaming community, and the Stealth 300 is 'Built to Win' for all gamers who drop onto a map," said Juergen Stark, CEO, Turtle Beach.  "Whether you're playing popular genre titles such as Fortnite or PUBG, or getting ready for this fall's big AAA releases like Call of Duty: Black Ops 4 and Red Dead Redemption 2, the Stealth 300 delivers the superior audio, comfort, and durability you need to win, and at a price that doesn't break the bank.
Full Stealth 300 Details
The Stealth 300 incorporates many key features from this year's top-selling headset in North America*, the Stealth 600, offering a superior new option for gamers looking to level-up their gameplay experience with a wired headset. The Stealth 300 for Xbox One and PS4™ features battery-powered amplification with a 40-hour rechargeable battery, large 50mm over-ear speakers and a high-sensitivity flip-to-mute mic for amazing game sound and crystal-clear chat. The Stealth 300 also has a metal-reinforced headband and includes Turtle Beach's unique ProSpecs™ glasses friendly memory foam ear cushions, along with four EQ Audio Presets including Bass Boost, and Variable Mic Monitoring. Additionally, the Stealth 300 for Xbox One is optimized to deliver Microsoft's Windows Sonic for Headphones surround sound to further immerse players in their games, movies, and music.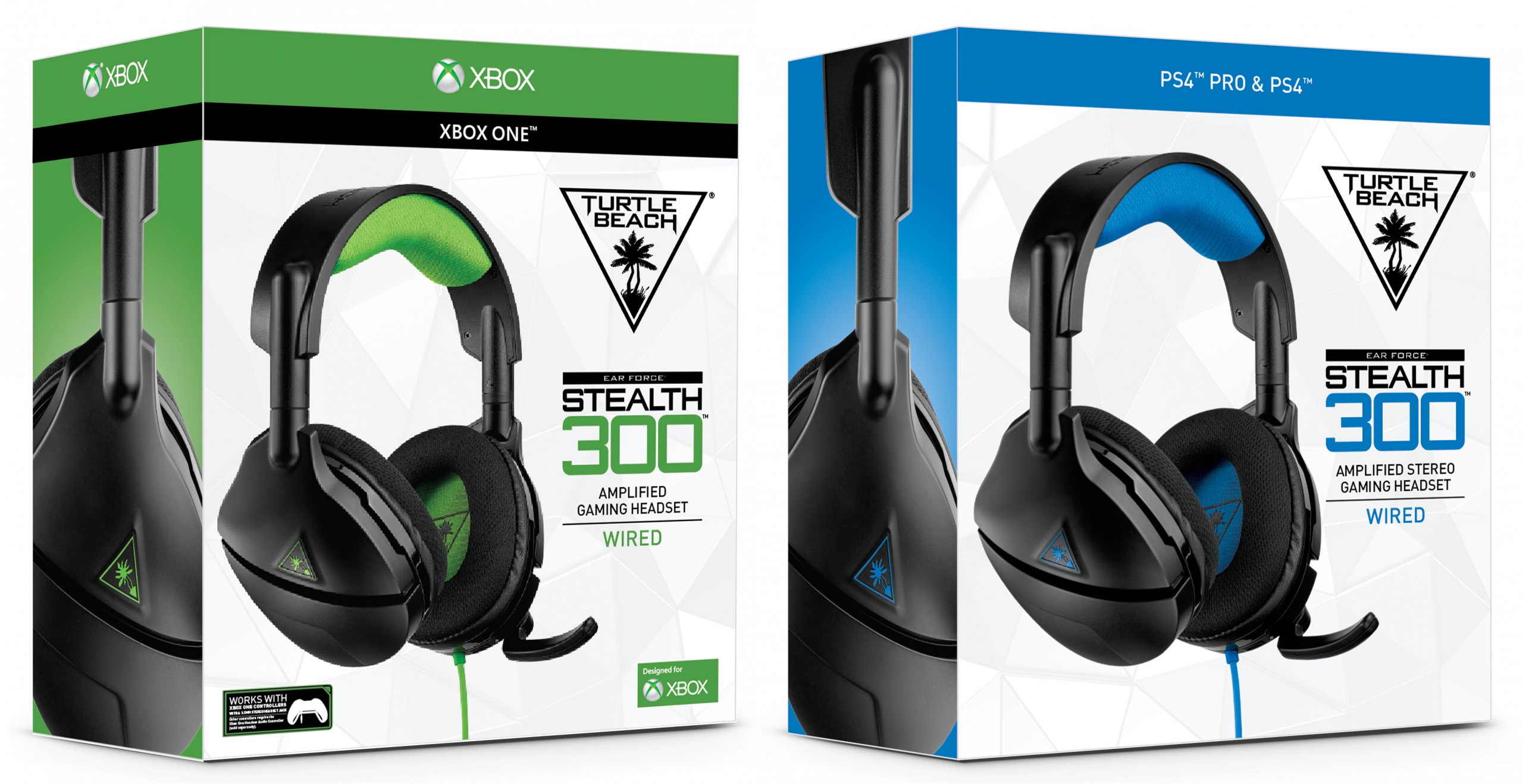 For more information on the latest Turtle Beach products and accessories, visit www.turtlebeach.com and be sure to follow Turtle Beach on Facebook, Twitter and Instagram.
Assets
For more assets, stills, lifestyle and videos please click here to download
About Turtle Beach Corporation
Turtle Beach (www.turtlebeach.com and http://corp.turtlebeach.com) has been revolutionizing console multiplayer gaming since the very beginning with its wide selection of industry leading, award-winning gaming headsets. Whether you're a professional esports athlete, hardcore gamer, casual player or just starting out, Turtle Beach has the gaming headset to help you truly master your skills. Amazing audio quality, crystal-clear communication, lightweight and comfortable designs, innovative and advanced technology, and ease-of-use are just a few features that have made Turtle Beach a fan-favorite brand for gamers the world over. Made for Xbox, PlayStation® and Nintendo Switch™ consoles, as well as for PC and mobile devices, having a Turtle Beach gaming headset in your arsenal gives you the competitive advantage. The Company's shares are traded on the NASDAQ Exchange under the symbol: HEAR.
Cautionary Note on Forward-Looking Statements
This press release includes forward-looking information and statements within the meaning of the federal securities laws. Except for historical information contained in this release, statements in this release may constitute forward-looking statements regarding assumptions, projections, expectations, targets, intentions or beliefs about future events. Statements containing the words "may", "could", "would", "should", "believe", "expect", "anticipate", "plan", "estimate", "target", "project", "intend" and similar expressions constitute forward-looking statements. Forward-looking statements involve known and unknown risks and uncertainties, which could cause actual results to differ materially from those contained in any forward-looking statement. Forward-looking statements are based on management's current belief, as well as assumptions made by, and information currently available to, management.
While the Company believes that its expectations are based upon reasonable assumptions, there can be no assurances that its goals and strategy will be realized. Numerous factors, including risks and uncertainties, may affect actual results and may cause results to differ materially from those expressed in forward-looking statements made by the Company or on its behalf. Some of these factors include, but are not limited to, risks related to the Company's liquidity, the substantial uncertainties inherent in the acceptance of existing and future products, the difficulty of commercializing and protecting new technology, the impact of competitive products and pricing, general business and economic conditions, risks associated with the expansion of our business including the implementation of any businesses we acquire, our indebtedness, and other factors discussed in our public filings, including the risk factors included in  the Company's most recent Quarterly Report on Form 10-Q and the Company's other periodic reports. Except as required by applicable law, including the securities laws of the United States and the rules and regulations of the Securities and Exchange Commission, the Company is under no obligation to publicly update or revise any forward-looking statement after the date of this release whether as a result of new information, future developments or otherwise.
All trademarks are the property of their respective owners.
*NPD sales data for US and Canada from January 1, 2018 to May 31, 2018.
Fornite, gaming headset, headset, PUBG, speakers, Turtle Beach