Walk This Way lancerer sin tredje sæson med The New Adventures of Aladdin
11 May 2017, Posted by Newsroom
in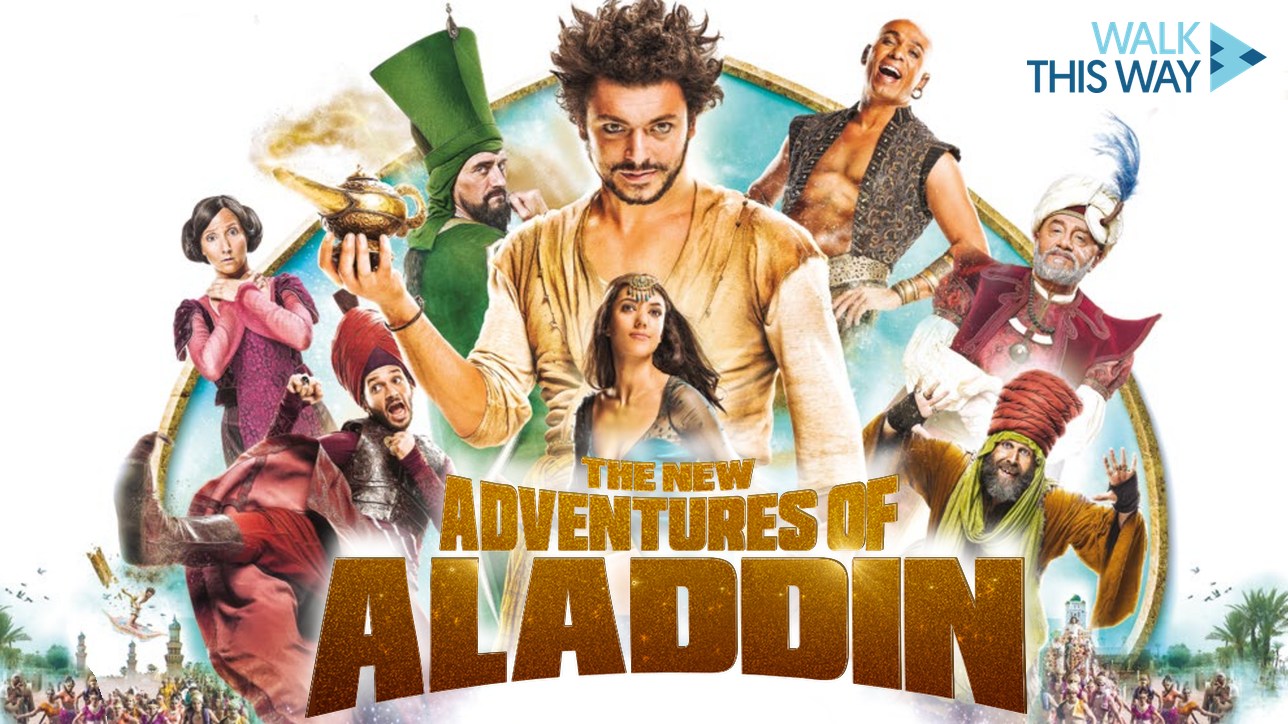 Det europæiske VOD distributionsinitiativ Walk This Way lancerer sin nye sæson af europæiske film den 15. maj med en fræk genindspilning af det klassiske mellemøstlige folkeeventyr i alle de skandinaviske lande.
Walk This Way – et projekt, som EU's MEDIA finansierer for europæiske film straight-to-VoD – lancerer tredje sæson med et kæmpehit, der kan nydes hjemme. The New Adventures of Aladdin kan hentes via platformene iTunes, Google Play og Microsoft, og den kendte franske komiker Kev Adams spiller hovedrollen som en skrupskør og snedig Aladdin. 
Et par tabere, der arbejder i et stormagasin som julemandens lookalikes, planlægger et røveri efter lukketid. Da en flok børn dukker op og beder om en historie, begynder Sam at fortælle en improviseret version af eventyret om Aladdin. The New Adventures of Aladdin er en uhøjtidelig genindspilning af klassikeren med masser af dans, hiphop, et magisk tæppe, der ligner en sportsbil, og en vesir med meget dårlig ånde. Den blev produceret sammen med og distribueret af Pathé Cinema i 2015, hvor publikum roste den i høje toner, og den indtjente op mod 30 millioner euro i de franske biografer. 
I år bringer Walk This Way film for enhver smag.  Der tilbydes over 30 kvalitetstitler i 5 samlinger: Overraskende kærlighedshistorier (den prisbelønnede The High Sun), This is War (Stones for the Rampart), Dokumentarer (Democracy, Future Baby, Grazing the Sky), Comédies à la Carte (News From Planet Mars, A Man and His Cow, Miss Sixty og Not My Day) og Prisbelønnede dramaer (Saint Georges), plus Premium-titlen, The New Adventures of Aladdin
Om The New Adventures of Aladdin:
Instruktør: Arthur Benzaquen
Medvirkende: Kev Adams, Jean-Paul Rouve,Vanessa Guide,
William Lebghil, Audrey Lamy, Eric Judor, Michel Blanc
107 min. / Komedie / Frankrig / Farver / Distributør: Pathé Distribution 
Aldersgrænse: 12+
Sprog: Filmen udgives på fransk med danske, svenske, norske samt finske undertekster. 
VOD tirsdag den 15. maj på iTunes, Google Play og Microsoft.
Få mere info om Walk This Way om projektet og hele kataloget: walkthisway.cineuropa.org