MALAYSIA, Kuala Lumpur May 26, 2023 —  Xsolla, a leading global video game commerce company, is thrilled to unveil a series of exciting advancements in their portfolio as part of their highly anticipated quarterly release week. Xsolla is launching a new tool to augment their existing Xsolla Partner Network solution, called Xsolla Drops. Xsolla is also partnering with YouAppi, the leading mobile marketing platform to  help Malaysian mobile game developers and publishers maximize their users' LTV potential.
Xsolla Drops
Xsolla announced that they are launching a new tool to augment their existing Xsolla Partner Network solution, called Xsolla Drops. Xsolla Partner Network is an efficient solution for game developers and publishers to create and scale performance-based influencer and affiliate programs. Xsolla Drops provides an added layer of marketing support for Malaysian game developers to increase user acquisition and incremental sales by streamlining the ability to promote their digital items, including virtual currencies, skins, NFTs, game keys, premium subscriptions, and more. 
"Drops gives game developers and publishers the ability to build and reward their gaming audience easily," said Alexander Menshikov, Business Head at Xsolla. "We are helping Malaysian game developers reward their fans, explore new user acquisition methods, and strengthen long-term engagement with a game's current player base by offering exclusive in-game items and unique experiences. With Drops, developers will create game-specific campaigns with targeted audiences, delivering a personalized experience on a custom landing page with no code required."
As user acquisition costs rise, developer budgets are taking a hit as they attempt to navigate which marketing channels are the most effective. Drops take a multi-tiered campaign approach to this issue by bringing the thrill of game discovery back to the players, creating inherent value for creators, and raising a game's overall brand awareness.
This comprehensive, new marketing tool solves the challenge of the rising costs of acquiring, engaging, and retaining players with branded websites and close collaboration with influencers, artists, esports pro gamers, celebrities, and renowned agencies.
"We were thrilled with the results of our Drops campaign with Xsolla," said Scott Robinson, Owner of SprintGP. "The onboarding process was easy and only took a few hours from start to finish. All we needed to do was to fill out the form, upload game design assets, and provide redemption instructions for players to get a reward. Xsolla handled the rest, including web page development and marketing setup. We doubled our user base in less than 24 hours and saw a 300% increase in website traffic. We highly recommend Xsolla's Drops tool to any game developer looking for new ways to drive user acquisition and engagement."
For more information about Xsolla Drops, please visit  https://xsolla.pro/drops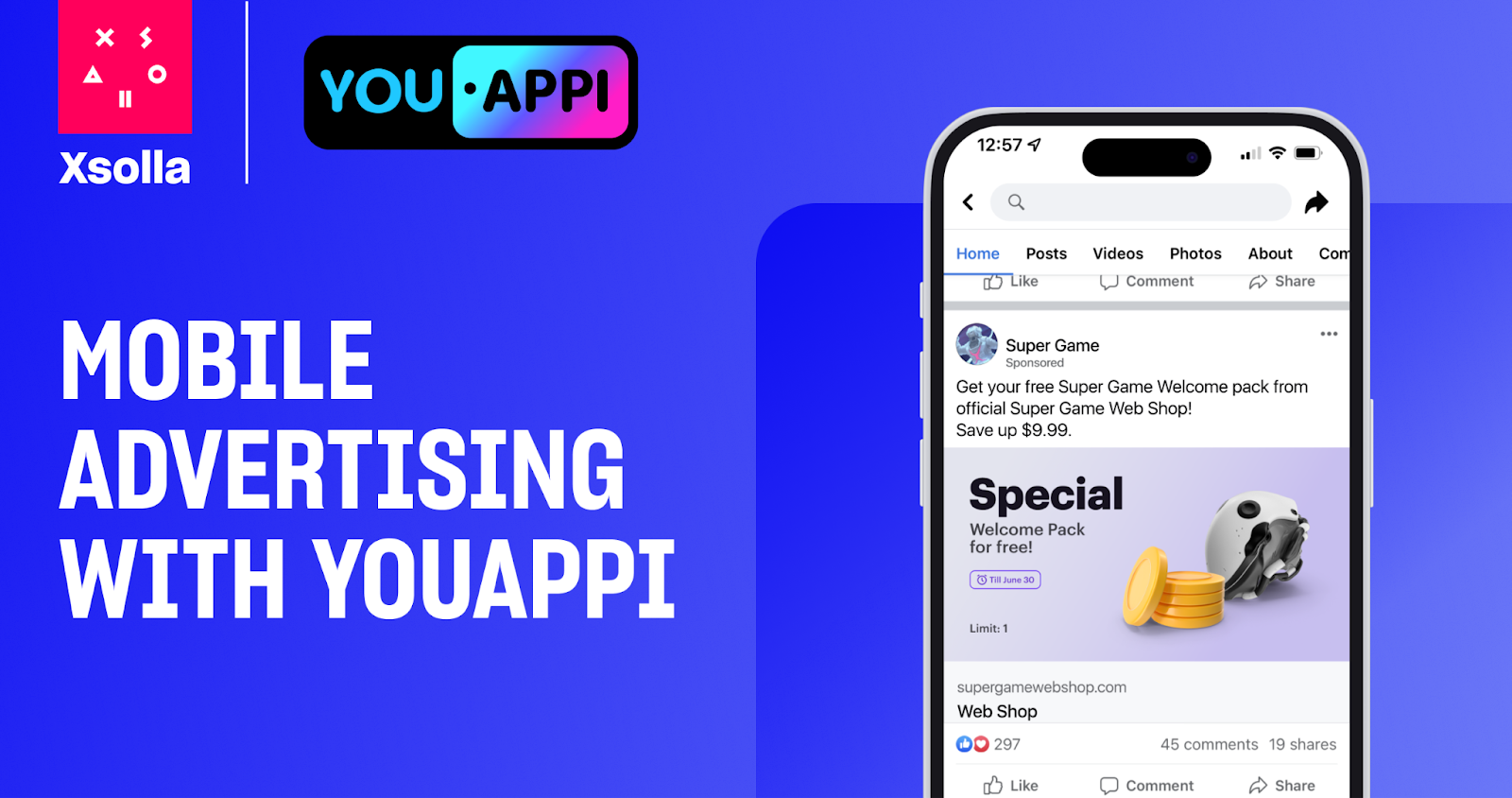 Mobile Advertising With YouAppi
Xsolla, a global video game commerce company, is excited to launching a partnership with YouAppi, the leading mobile marketing platform for Malaysian brands wanting to grow their business. The collaboration aims to address the needs of the Malaysian gaming market by providing retargeting campaigns that help Malaysian mobile game developers and publishers drive more players to a web shop and grow revenue from existing players. 
YouAppi and Xsolla's partnership will transform the Malaysian game industry business and portfolio strategies for revenue growth and retention to their partners. Xsolla and YouAppi joined forces to help video game developers and publishers retain, retarget and re-engage mobile app users and to amplify what Xsolla Web Shop already does well – it helps to increase the average purchase amount, the number of repeated purchases and re-engage with consumers who have not recently played the game.
"Today, we're proud to announce a game-changing alliance between Xsolla and YouAppi, the leading mobile marketing platform for brands seeking exponential growth, said Chris Hewish, President of Xsolla. "Our joint mission is to revolutionize how Malaysian video game developers and publishers engage with mobile app users, optimizing retention, retargeting, and re-engagement strategies. By synergizing our efforts, we're amplifying the strengths of Xsolla Web Shop, which already excels in boosting average purchase amounts, repeat purchases, and transitioning traffic from mobile to web."
Web Shop is a direct-to-consumer commerce solution powered by Xsolla for mobile games. Sell in-game items, currencies, and top-up player accounts online, inspire players to purchase, keep more of your revenue, and boost LTV and ARPU, all from your website.
"The Xsolla and YouAppi partnership is a powerful combination. Xsolla's understanding of increasing user monetization through its Web Shop uniquely complements YouAppi's ability to increase user retention through mobile app retargeting," said Moshe Vaknin, CEO of YouAppi. "This will be an industry-leading collaboration."
For more information about the Mobile Advertising platform, please visit: https://xsolla.pro/youappi
About YouAppi
YouAppi is a leading growth and retention platform for mobile apps, specializing in re-engagement and retargeting. Powered by machine learning and audience targeting, YouAppi's proven proprietary app remarketing technology finds and retains the most profitable users for its clients. YouAppi works with mobile app companies across the globe in gaming, e-commerce, entertainment, lifestyle, and finance among others. Established in 2011, YouAppi has been a long-term partner to leading mobile advertisers, earning recent awards including top 100 fastest-growing companies in North America on the 2021 Deloitte Technology Fast 500™ and 2023 Inc. 5000 Regionals: Pacific list. YouAppi is also ranked a global top 10 remarketing company on the Appsflyer 2022 performance index in gaming and non-gaming.
To learn more, visit: www.youappi.com. 
About Xsolla
Xsolla is a global video game commerce company with a robust and powerful set of tools and services designed specifically for the video game industry. Since its founding in 2005, Xsolla has helped thousands of game developers and publishers of all sizes fund, market, launch and monetize their games globally and across multiple platforms. As an innovative leader in game commerce, Xsolla's mission is to solve the inherent complexities of global distribution, marketing, and monetization to help our partners reach more geographies, generate more revenue and create relationships with gamers worldwide. Headquartered and incorporated in Los Angeles, California, with offices in Berlin, Seoul, Beijing, Kuala Lumpur, and cities around the world, Xsolla supports major gaming titles like Valve, Twitch, Roblox, Ubisoft, Epic Games, Take-Two, KRAFTON, Nexters, NetEase, Playstudios, Playrix, miHoYo, and more. 
For additional information and to learn more, please visit: xsolla.com
Email: business@xsolla.com 
Facebook: https://www.facebook.com/xsolla.inc 
Instagram: https://www.instagram.com/xsolla/ 
LinkedIn: https://www.linkedin.com/company/xsolla 
Twitter: https://twitter.com/xsolla