A Fresh Challenge Fraught with Peril begins alongside New Trials, Dungeons, Raids and More
LONDON (18th September 2018) – Warriors of Light the world over face dangerous new challenges as Patch 4.4: Prelude in Violet launches today. The latest update for the critically-acclaimed MMO FINAL FANTASY® XIV Online sees the start of a new adventure for the Warriors of Light, after bringing about the liberation of the Garlean-controlled regions. What ultimately awaits the Warriors between the encroaching Garlean Empire and the Eorzean Alliance…
This update also brings the Omega raid series to a close, while adding a new Trial, two new Dungeons and plenty more. For a tease of what's to come, check out the trailer: https://youtu.be/O9hvag2z_QU
Suzaku, from the Four Lords Quest Series
The latest FINAL FANTASY XIV Online update adds hours of new content, including:
New Main Scenario Quests
New Sidequests – The Four Lords and Even Further Hildibrand Adventures
New Dungeons – The Burn and Saint Mocianne's Arboretum (Hard)
New Trial – Hells' Kier (Suzaku)
New Raid – Omega: Alphascape
Gathering and Crafting Updates – New Recipes
Housing Updates – Addition of the Mannequin Indoor Furnishing
Expansion of The Lost Canals of Uznair – The Treasure Hunting instance
Battle System and PvP Updates, New Gold Saucer Content, Added Group Pose Functionality, and more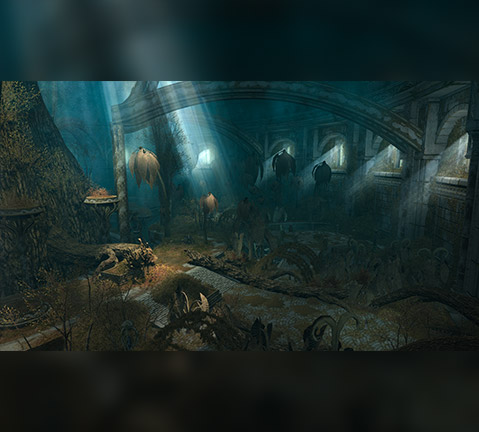 Saint Mocianne's Arboretum (Hard)
Additionally, the Ceremony of Eternal Bonding, a sacred rite of bonding held at the Sanctum of the Twelve, now allows players to commemorate their relationship in more ways with newly added options, including anniversary ceremonies.
Fans can also look forward to an exciting season of FINAL FANTASY XIV Online Fan Festivals all over the world. North America will kick off the tour on November 16-17, 2018 in Las Vegas, followed by the European Fan Festival on February 2-3, 2019 at the La Grande Halle de La Villettebin Paris, and ending with the Tokyo Fan Festival in March 2019. Players not attending the event are invited to tune into FINAL FANTASY XIV Fan Festival live stream, available for free on the official FINAL FANTASY XIV Online Twitch channel: https://twitch.tv/finalfantasyxiv
All editions of FINAL FANTASY XIV Online, including the FINAL FANTASY XIV: Stormblood expansion, can be purchased through the Square Enix Online Store here: http://sqex.to/FFXIVStore
About Square Enix Ltd.
Square Enix Ltd. develops, publishes, distributes and licenses SQUARE ENIX®, EIDOS® and TAITO® branded entertainment content in Europe and other PAL territories as part of the Square Enix group of companies. Square Enix Ltd. also has a global network of leading development studios such as Crystal Dynamics® and Eidos Montréal. The Square Enix group of companies boasts a valuable portfolio of intellectual property including: FINAL FANTASY®, which has sold over 142 million units worldwide; DRAGON QUEST®, which has sold over 76 million units worldwide; TOMB RAIDER®, which has sold over 67 million units worldwide; and the legendary SPACE INVADERS®. Square Enix Ltd. is a London-based, wholly-owned subsidiary of Square Enix Holdings Co., Ltd.
More information on Square Enix Ltd. can be found at http://eu.square-enix.com/en